Welcome back! We're continuing to celebrate National Nutrition Month. This week we will share tips to plan meals, save money, and share resources available right here in Massachusetts. Read on!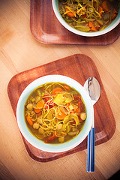 We all experience times when we cannot think of what to make for dinner. Or breakfast. Or lunch. That may be one of the reasons you're here, right? The first step is looking in your pantry and refrigerator and taking stock of what you have. If we know what we have we're halfway to dinner already! What about the can of chickpeas in the back of the cupboard? That, combined with a can of tomatoes and the small amount of whole wheat pasta you have remaining, a couple of frizzled carrots, and a wilted celery branch and you've nearly at Harira! Harira is a delicious soup often served to break the fast during the Muslim holiday of Ramadan. And the timing is perfect as Ramadan is this month!
Planning meals helps save money on groceries. And we have lots of suggestions on our site and in past blog posts. To start, we have a short video to help you navigate meal planning on a budget. We even have a page on our website dedicated to shopping on a budget! Check it out. More recently, we had a blog post dedicated to grocery shopping. Click here to read it!
With spring right around the corner, you may be looking for new places to get your (physical activity) steps in. Have you heard about the Card to Culture program available in Massachusetts? Click here to find out where you can receive reduced fares, discounted prices, and even free admission to museums, events, and parks around the state. All you have to do is share your SNAP (EBT) card with providers to access these resources. Try something new!
Thanks for stopping by!
Did you find this blog post helpful? Please click the heart button!