FNS.gov shows that a family of four spends about $220.80 on groceries per week totaling over $965.30 per month or $11,583.20 per year. If this sounds like your family, this blog will help you save money before you head to the store as well as after you stock your shelves. This year, save money while planning, shopping, and eating healthy meals.
The best way to save while shopping is to follow your budget. How does one do that? It helps to have a general sense of what you spend at the store each trip. Determine what your food budget is, track the amounts of each item on the list as you place it in your cart, and make appropriate adjustments before you get to the check-out lane.
Here are more suggestions to help you save money in the new year:
Plan your meals
To some planning meals ahead of time may seem overwhelming and time-consuming. It does take some effort, in the beginning, to plan out all the meals for each day of the week. Remember you know your family best and their likes and dislikes. Start by using this meal planning chart to determine your meals for each day. Once you figure out your meals for the week, it is time to make a shopping list. Check out this sample from MyPlate. Managing this time up front will open more free time to spend with your loved ones. It will also reduce the stress of determining what to cook every night or worrying about what ingredients you might have or not have on hand.
Another tip is to use your store's sales flyer to determine your meals for the week. For example, the following sale items, pork shoulder, potatoes, onions, and carrots, will make a delicious, boiled dinner. Add a slice of whole wheat bread, fruit, and a glass of low-fat milk for a well-balanced meal using all the food groups. Any leftovers can be made into breakfast or lunch the next day.
Not sure what to cook for your family and need some recipe inspiration? Use our Find a Recipe feature that allows you to search by ingredient, meal type, or by your preferred foods. You just might find your new favorite recipe here!
Pick through your pantry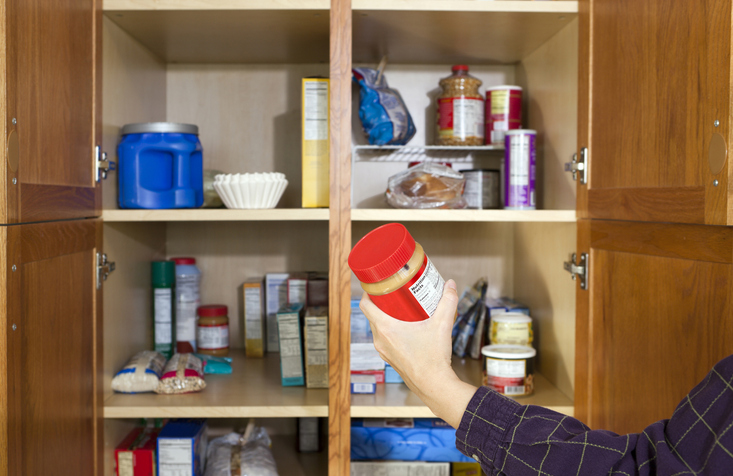 Open those cabinet doors to determine what you have in your pantry before spending extra money at the store on items you may not actually need. Make sure to go through the refrigerator and freezer as well. Your pantry should have your basic staples (sugar, flour, salt), spices and herbs, sauces, grains (oats, whole wheat pasta and bread), and canned goods (like fruits, vegetables, beans, and tuna). Just by doing this step could give you recipe ideas or help determine what food items you need to use before they expire. To make this exercise fun, play a search game with your child. Tell them you are looking for a box of noodles and see if they can locate it in the cupboard. Can they find the oranges in the crisper? Is there milk in the refrigerator?
Stick to your list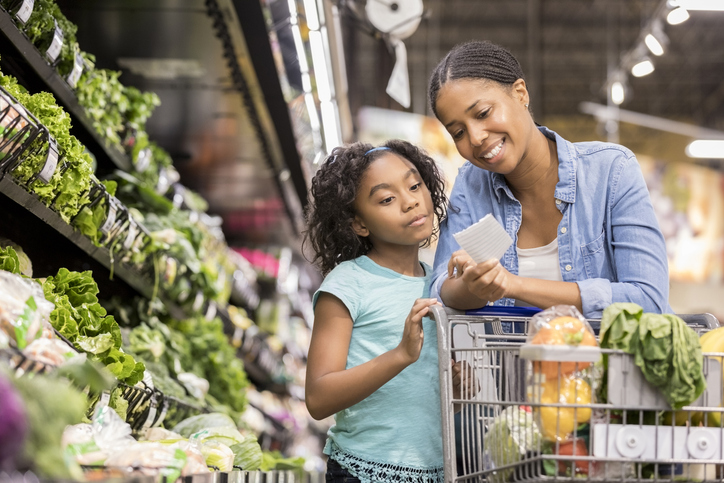 Only buy what you need. The most expensive food is the food you throw in the trash each week. If you plan on buying fruits and vegetables, make sure to use them within the first few days of purchasing. You could also chop them up and store in the freezer to use later in the week. If you have a dinner recipe that calls for half of an onion one night, use the other half in your hash browns the next morning for breakfast. Or, during the winter opt for canned or frozen fruits and vegetables. They have the same nutritional value as fresh and can last much longer. Look for low salt versions of canned vegetables and fruit packed in juice versus syrup. Your family will thank you for it!
Rather than buying specialty spice mixes, try making your own using these recipes. You will also find that making your own gives you control over the salt and sugar content. Try these recipes for Homemade Corn Tortilla Chips and Salsa Fresca.
Buy generic
We all have our favorite name-brand food items that we trust and love. But did you know that there are many food items you could switch out for the generic brand and see a big cost difference? Consider trying a few generic brands of condiments, pasta, or cereal and start racking up the savings!
Shop at a farmers' market or food pantry
Shopping at a farmers' market will not only help the farmers because you are buying directly from them but also from your community and local economy. Stock up on seasonal fruits and vegetables for freshness and optimal taste. Additionally, use your EBT card to take advantage of the Healthy Incentives Program (HIP). HIP returns money to your EBT card when you use SNAP dollars to buy fresh, local fruits and vegetables from a HIP farm vendor. Locate one near you today!
Food pantries are another option when you are looking to save money. They have everything from meats to produce and grains including culturally diverse foods. Be sure to check the hours and times before making the trip. Find one near you, here. Another option is to grow your own produce. For winter months, try starting with herbs. They can sit in your kitchen window or on your counter and are very easy to maintain. Check your local dollar store to find some small growing kits. Focus on herbs that you use the most like oregano, cilantro, or thyme.
Prep meals in advance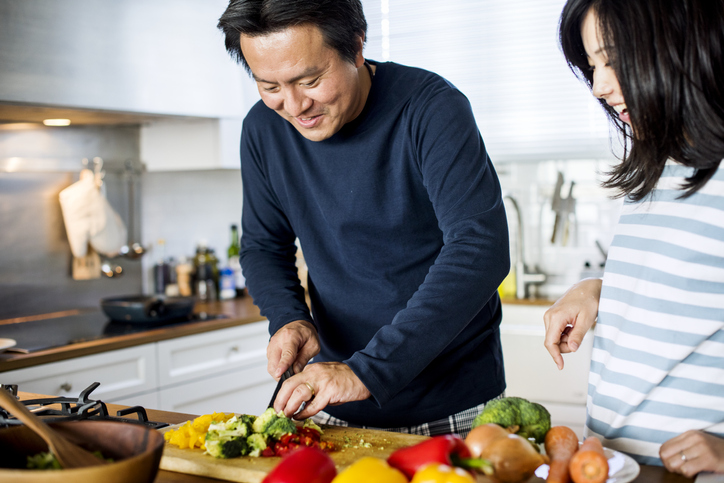 Now that you have done your shopping, take some time to cut up vegetables for the next few meals or snacks. Use in a stir fry for your dinner on Monday and for the kids to pack in their lunch the next day. Make a large batch of grains like quinoa for that stir fry and use on Tuesday for that taco meal. Roast a chicken on Sunday and use it throughout the week in your salads or sandwiches for lunch. Try a casserole day on Thursday that uses up your leftover meats, vegetables, or sauces. This food storage chart will show you how long food items can be kept in the refrigerator safely.
Having your meals prepared in advance will save you time and money. It can reduce your stress in managing your time and tasks after a long day at work so you can spend more time with your family. You also will avoid food waste and spending money on take-out meals. According to USDA, the average serving cost of a home-cooked meal is $4 compared to a serving price of a restaurant meal at $13. You can do it. But you do not have to do it by yourself; involve the whole family with various tasks:
Chopping the vegetables
Setting the table
Mixing the salad
Cleaning up the kitchen
Other ways to explore shopping with children:
Make a My Favorite Foods Book using old magazines or flyers. Have your child "read" it to you as you shop.
As you place items into your cart, explain to your child why you need the food item and how you will store it, prep it, and cook it.
Ask these questions-what do you think orange juice is made of? How many ways can you use tomatoes? Where does milk or cheese come from?
Print and play the MA SNAP-Ed Grocery Store Scavenger Hunt
Color Broc's Grocery Store Coloring Page
Children's books on shopping
The resources below will help introduce your child to a few of the topics addressed in this blog; making a list, shopping can be fun, and what to expect at a food pantry.
Bebé Goes Shopping, by Susan Middleton Elya, 2008, for ages 4-7 years (Dual-Language Spanish)
Pop Out and Play: Shopping List, Robin Gayle, 2019, for ages 0-5 years (Board book & puzzle)
Supermarket, by Kathleen Krull, 2001, for ages 4-8 years
To Market, To Market, by Anne Miranda, 2001, for ages 0-9 years
Saturday at the Food Pantry, by Diane O'Neill, 2021, for ages 4-7 years
A Little Book About Food, by Leo Lionne's Friends, 2022, for ages 0-3 years
Save money. Eat well! -Broc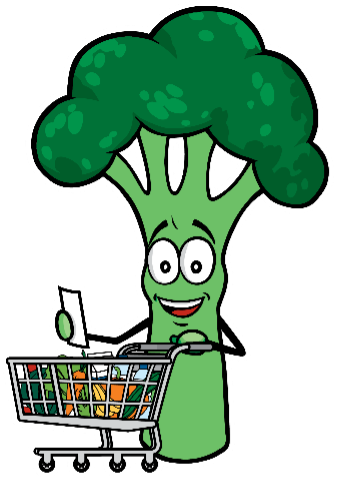 Did you find this blog post helpful? Please click the heart button!