One of the best ways we can care for ourselves is to eat a variety of foods from each of the five food groups. This means balancing your plate with protein, fruits, vegetables, whole grains, and low-fat dairy. Together, these food groups provide a range of vitamins and minerals our bodies need to function properly.
For more information on the benefits of each food group, check out our blog on Dietary Diversity.
Here are some meal options that contain 5 Food Groups that you can try today!
Breakfast-A smoothie made with blueberries, kale, yogurt, oats, and tofu
Lunch-A salad made with spinach, mandarin oranges, quinoa, grilled chicken breast, and low-fat cheese
Dinner-Casserole made with brown rice, your choice of vegetable and lean meat, and a yogurt sauce with a side of sliced strawberries
Click here for this nutrient-packed meal of Stuffed Peppers.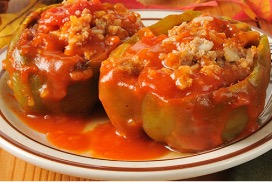 For your snacks, aim for including 3 of the food groups, such as a versatile Trail Treat or celery stalks filled with peanut butter and topped with raisins. A beverage of low-fat milk or water could top off any of these filling treats.
Don't worry about getting all the food groups into each meal but instead focus on balancing it throughout the day or across the week to start. Small changes still make a big difference!
Other Resources
For more information on the benefits of fresh, canned, or frozen fruits and vegetables, click here.
Need more help with meal planning, watch this video.
For some family fun try this Five Food Groups Word Scramble with the kids
Did you find this blog post helpful? Please click the heart button!