Recently while on vacation, my family and I decided to try a new protein for dinner that we would be making on the grill, catfish! Not only did we save money, but we expanded our palates for seafood together. We bought a large piece to share among four people. We generously seasoned, panko-breaded, and lightly pan-fried the fish and used lemon for additional flavoring. Surprisingly, three out of the four of us found a new favorite fish dish. Trying it together gave us each the confidence to jump into trying a new dish we would have never purchased on our own. We had a delightful evening discovering this tasty treat and you can too by using this light Catfish recipe.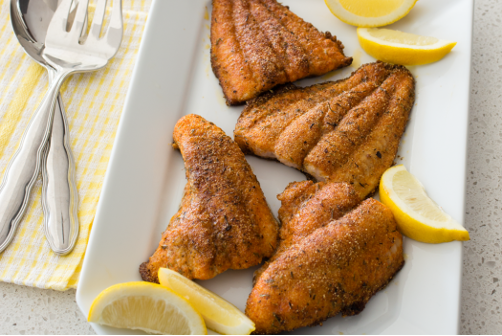 Preparing meals at home:
Can be quick and easy
Saves you money
Gives you control of salt and sugar content
Enjoying delicious homecooked meals with friends and family supports a well-balanced lifestyle. Finding joy as the "chef" or when visiting a friend's home, is a great way to try a new food or a different cooking method. Involving children in cooking meals can spark a lifetime of joy around preparing and trying new foods. Most of us typically tend to stay in our comfort zones, but by adding a new flavor or dish to your recipe file of weekly meals can be an exciting way to discover new worlds of tastes. Challenge yourself with these cultural recipes at your next gathering:
Celebrate life with flavor and zest!
Enjoy making new memories with your friends and loved ones while living healthy and strong!
Check out these other resources:
Saving Money on Food Blog
Ideas for Using Leftovers Blog
Did you find this blog post helpful? Please click the heart button!