It is officially time to head back to school! You may have a kindergartener headed to the classroom for the first time or a middle schooler jumping back into the school year routine. No matter what, food during the school day is important to fuel students' brains. Snacks are a great way to help kids get all the important nutrients they need. With a little preparation, you can make easy, nutritious, filling snacks that help kids stay focused and energized throughout the school day.
School Lunch is Free!
In early August, Massachusetts made "School Meals for All" permanent starting this school year. This means that all kids eat lunch for free as well as breakfast and snacks at participating schools. This will save parents money, time, and stress knowing lunch is taken care of. Additionally, parents can trust these lunches will give students many of the vitamins and minerals they need to succeed in school.
Why Kids Need Snacks
With lunch taken care of, we can shift our attention to school-day snacks. Even with free healthy meals, kids need snacks to help fuel their bodies. Students spend an average of six or more hours at school, and all that learning takes a lot of brain power. Having a well-balanced lunch plus one or two snacks will keep their bellies full and their brains awake. Plus, snack time is a great opportunity to add extra nutrition to your kids' day. A powerful snack combo can pack in the important nutrients that help kids grow, learn, and play.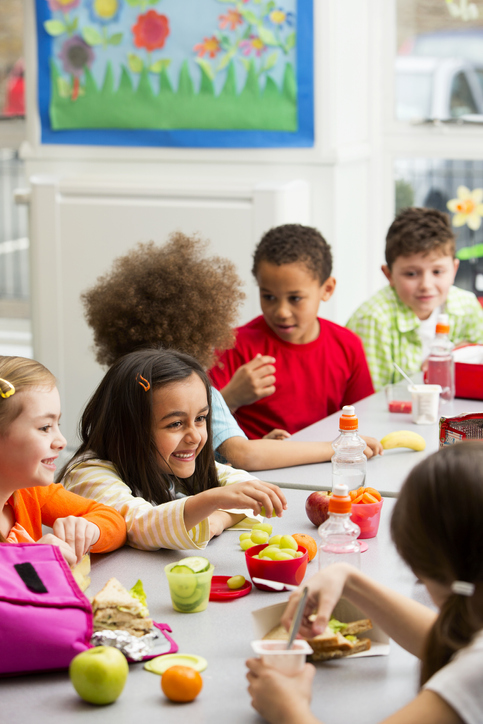 Snack Tips
Healthy snacks do not need to be complicated. We have an easy formula and a few tips to make snack time simple. Here are a few things to keep in mind when putting together snacks for yourself and your family.
Successful snacking can be easy and can involve whatever you have on hand or leftover. Choose two or more parts of this formula to make something delicious:
fruit or vegetable + whole grain + protein-rich food + dairy
Note that some foods might fit into two of these categories. Things like cheese and Greek yogurt can be considered dairy and protein-rich foods.
Keep kids full by incorporating at least one of the following from whatever you already have in your cabinets: fiber (usually from fruits/vegetables), protein, and healthy fat (often in dairy or protein-rich foods). Following the formula above will make sure these things are included.
Try to prepare snacks ahead of time. Over the weekend, if you have time, cut up fruits and vegetables and separate out portions of hummus or peanut or nut butter. This will make it easy to grab snacks in the busy morning before school starts.
Always keep food safety in mind, both when preparing food and serving it. Things such as cheese, deli meat, and cut-up fruits and vegetables need to stay cold. Store them in the fridge overnight. At school, use an insulated bag with at least one ice pack.
Many grocery stores have a reduced-price area in the produce section. Shop here to get great deals on delicious fruits and vegetables.
Snack Ideas
Following our nifty formula above, here are a few snack combinations that are sure to help kids feel full and ready to focus on the school day. You can also use the Build Your Own Recipe guide for snack ideas.
Fruit/Vegetable
Whole Grain
Protein-Rich Food
Dairy
Tomato
Whole wheat pita
Hummus
Blueberries
Granola
Greek yogurt
Cucumber
Whole wheat crackers
Cheese
Banana
Whole wheat tortilla
Peanut butter (or other
nut/seed butter)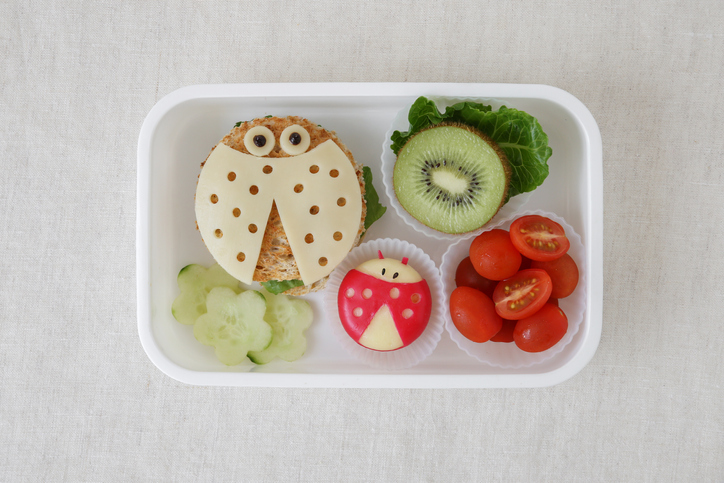 Other Make Ahead Options
If you have a little extra time, preparing snacks in bulk can be a huge time saver on busy school days. Muffins using some leftover produce from the farmers' market are a wonderful snack option. You can use many different types of fruits in addition to zucchini, pumpkin, carrot, or whatever you have on hand. These Pineapple Carrot Muffins are a great way to add both fruits and vegetables into a muffin.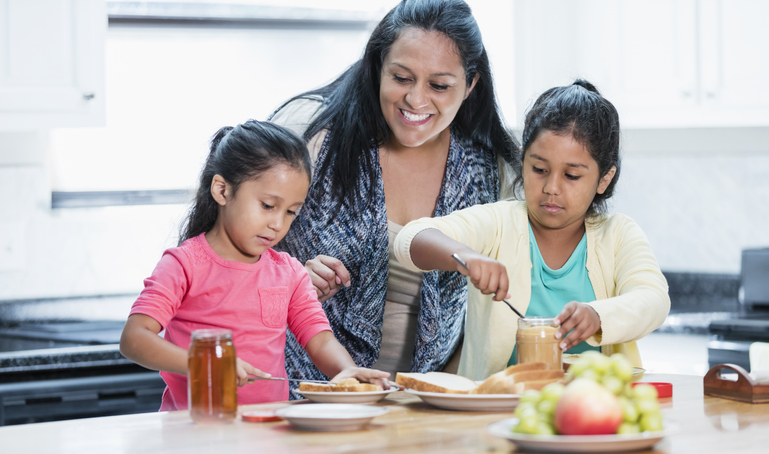 Become a Snack Making Pro
However you decide to prepare snacks for school, rest assured that you are helping your kids stay full and focused. Healthy snacks are an important part of a student's day. Starting off the school year with these tips is sure to set you and your family up for success!
Did you find this blog post helpful? Please click the heart button!