There is a crispness in the air in October. Amidst the weather change, there is also a lot to celebrate. Between September 15 through October 15, we celebrate Hispanic Heritage Month. Throughout this month, many Latin American countries celebrate their independence days. This is also a time to recognize the vast array of Hispanic cultures present throughout the United States. An individual may identify as Hispanic or Latino/a if they have ethnic ties to one of the many countries in Central or South America, otherwise known as Latin America, which is more than 30 countries altogether. In Massachusetts, about 12% of the population identifies as Hispanic.
A major part of any culture is food and eating traditions, and Hispanic culture is no exception. Since Latin America covers a large geographic area, there are a lot of different cultures to learn from. You may be familiar with some Hispanic influences on American eating patterns, especially if you enjoy tacos, guacamole, or salsa, but there is always more to learn. There are many fantastic foods on the Recipes page on this website that have Hispanic or Latino roots.
Let's Eat!
Latin American countries are known for a variety of foods and below are just three delicious meals. It is important to note that these three meals do not perfectly represent all Hispanic cultures. Each country of origin will have unique customs and traditions. It can be exciting to explore and learn more about the delicious foods from Latin America.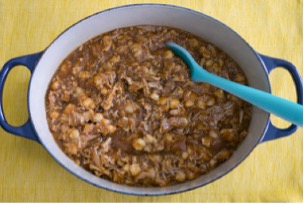 Chicken Pozole is a traditional Mexican soup that is made with hominy. Hominy is an ingredient made from drying and processing maize. This soup is perfect for a chilly fall day.
Cuban Black Bean Soup features some classic Latin American flavors, such as cumin and cilantro. This soup is also full of fiber and protein, two important nutrients.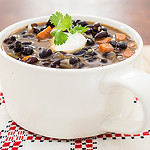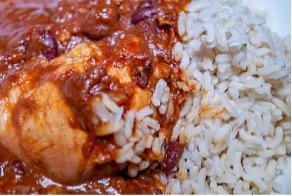 Chicken Mole is another classic Mexican dish. Mole is a sweet and spicy sauce that is often put over a protein such as chicken and served alongside rice.
Indigenous Peoples' Day
In October, we also celebrate Indigenous Peoples' Day, which lands on October 9 this year. This is an important day to commemorate the Indigenous people of the United States, past, present, and future. In Massachusetts, there are two federally recognized Tribal Nations: the Mashpee Wampanoag Tribe and the Wampanoag Tribe of Gay Head (Aquinnah) of Massachusetts and one state-recognized, Nipmuc Nation. Similar to Hispanic heritage, there is not one dish or tradition that represents all Indigenous people across the U.S., but we will highlight one delicious dish you can make at home.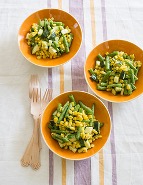 Three Sisters Salad uses a plant from each of the "three sisters": squash, maize, and beans. These three plants are traditionally grown together in Indigenous communities throughout the Northeast U.S. This way of planting crops together is known as companion planting. The three crops benefit each other when growing, and they go well together in a meal. Try a three-sister's meal at home to nourish your body!
Did you find this blog post helpful? Please click the heart button!