One of the great things about living in Massachusetts is that we get to experience all four seasons. August, especially, can feel bittersweet. Even while we're trying to stay cool, we know, in a short time, we'll be looking for a jacket or sweater one chilly morning. Brrrrr. But let's put that aside, this month we'll focus on vegetables in abundance right now that are delicious, nutritious, and simple to prepare. Read on to learn more about tomatoes and zucchini, discover a few easy recipes, and more ideas for family fun as we try and savor summer.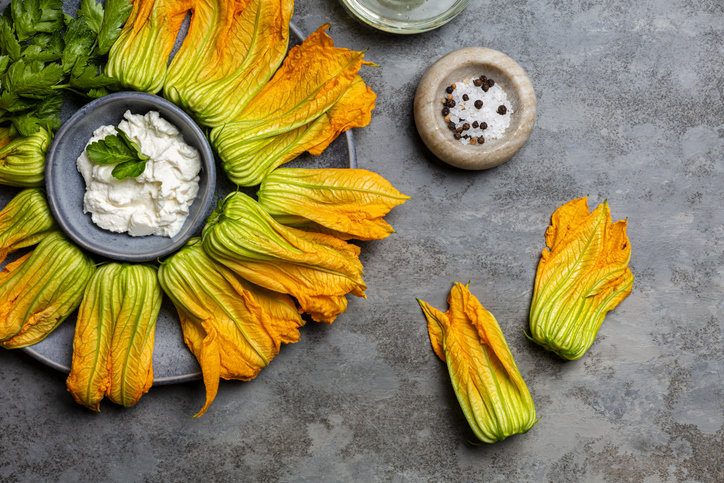 Did you know that there are over 10,000 tomato varieties or that the flowers on zucchini plants are edible (and delicious)? Both originated from the Americas. They are considered *companion* plants which means, when grown together, they benefit one another. The flowers of a tomato plant attract bees and other pollinators and zucchini blossoms need to be pollinated to produce fruit. If they aren't pollinated, they won't grow any zucchini. Likewise, the broad leaves of the zucchini plants protect the soil from drying out. Tomatoes will produce more fruit when the soil isn't dry. Chances are, if you see tomatoes growing, you'll find zucchini as well. And they continue to be companions after ripening as they're delicious when served together! Try this easy simple Summer Squash Saute  and see for yourself.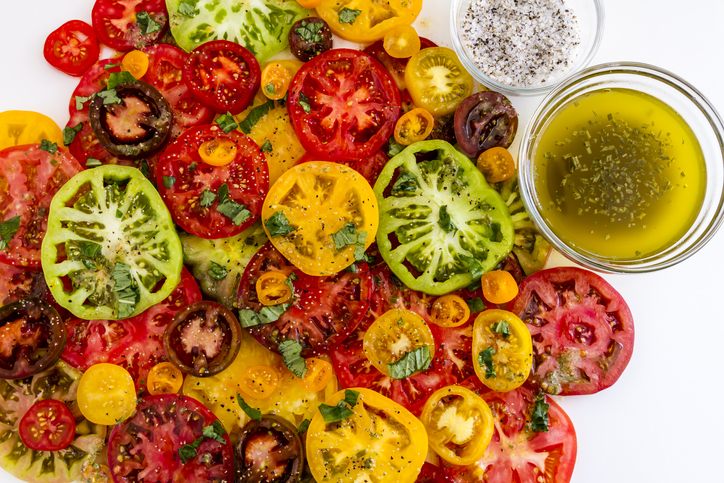 You knew tomatoes and zucchini were considered fruit, but did you know:
Tomatoes:
On the last Wednesday in August there is a tomato fight called, La Tomatina, in Bunol, Spain with over 20,000 people hurling tomatoes at each other.
Tomatoes come in a variety of colors including purple, black, and white!
In the U.S. we each consume approximately 22-24 pounds of tomatoes every year. Half of that is in the form of ketchup and tomato sauce.
Tomatoes are rich in a variety of minerals and vitamins, helping decrease the risk of chronic diseases and some cancers.
Zucchini:
While zucchini originated relatively close by in Central America it was the Italians who brought them to the U.S. in the 1920's.
The first weekend of September is an annual three-day 'Zucchinifest' in Obetz, Ohio which claims to be "everything zucchini"!
The world's largest reported zucchini was 69.5 inches (That's over 5.5 feet!) and weighed 65 pounds.
A zucchini has more potassium than a banana and is 95% water.
Besides using zucchini and/or tomatoes in a frittata, a galette, pasta, quesadillas, or the classic ratatouille you can make pickled tomatoes or zucchini. You can try tomato jam. Zucchini hummus. Purchase pizza crust when you're at the grocery store for a quick and inexpensive dinner and top with, you guessed it, tomato and/or zucchini!
When at the grocery store, be sure to check the reduced produce cart. At this time of year, there's a good chance you'll find some tomatoes or zucchini (or both!) along with an assortment of healthy and inexpensive fruit and vegetables. Of course, you likely already have some (or a lot) of tomatoes and/or zucchini on hand from your own garden or a neighbor who is sharing their garden's bounty (that they can barely keep up with!).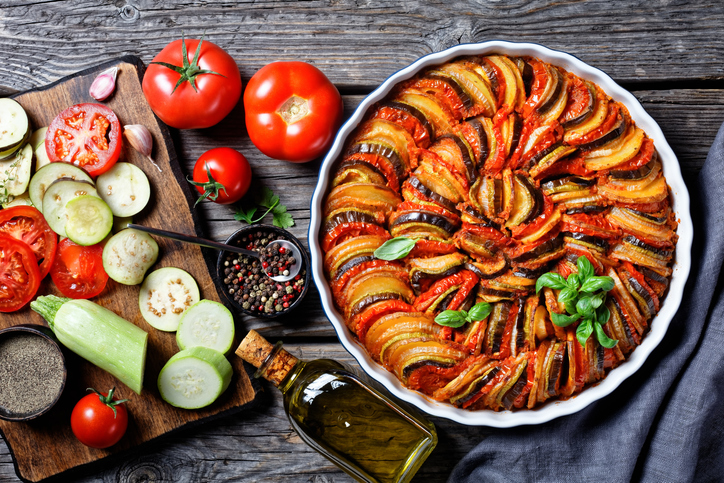 Photo description: ratatouille with tomatoes, zucchini, and eggplant
To find out more about purchasing locally grown fruits and vegetables AND ways to save money, click on the link here. To find tips to get the whole family active, check out our blog post from last August. As always, thanks for stopping by, we enjoy the company!