School is out and as parents, we will be looking for ways to overcome the inevitable "Summer boredom" heard from our children over the next few months. Well, have we got a fix for you! This Summer, step up your physical fitness game with these fun and easy activities the whole family will enjoy. Not only will it keep the kids moving, but they will not even realize that they are getting in their 60 minutes of recommended daily activity.
According to the Centers for Disease Control, our bodies need to exercise each day to:
Support growth and development in children.
Keep our brains and bodies functioning properly.
Sleep more soundly.
Reduce anxiety.
Lower the risk of various chronic diseases.
Start Simple
Life is so much smoother when we feel good. "Motion is the lotion." When we use our muscles, it lubricates our joints and keeps our bodies feeling good. There is no need to overthink it though. Do not worry about exactly how many minutes or what type of exercise you choose. Begin "working out" with your children one small step at a time. Stand in a safe space and start with these basic stretches (holding for 10 seconds each):
| | |
| --- | --- |
| Body Part Focus | Movement |
| Head and Neck | Bend head to chest |
| | Lift head back to look at the sky |
| | Touch each shoulder with your ear |
| | Head Circles |
| Arms | Reach up to the stars |
| | Shoulder Circles |
| | Small circles with arms outstretched |
| | Big circles with arms outstretched |
| Back | Arms over your head, bend to each side |
| | Bend over and touch your toes |
| Legs | Forward lunges |
| | Squats |
When your child is ready, yoga poses are another easy and fun way to get your child moving. Use Broc's Yoga Pose Sheet to work on this physical activity together. Yoga not only assists with muscle strengthening and flexibility but helps with balance and is a great stress reliever!
All Activity Counts
You do not need to sign your child up for swimming or tumbling classes. Keeping active only requires you to move your body. Going up and down the stairs to do laundry counts. Walking to school together as a family count. Having a Saturday morning pillow fight counts.
Children need 60 minutes of physical activity each day. Get your heart beating with aerobic activities, such as swimming, walking, or dancing. For more intense activities try biking, hiking, or a game of kickball. Other activities could focus on strengthening muscles (climbing structures, push-ups, monkey bars) and building bones (running games, jumping rope, and yoga are all great examples). Sometimes all you need is a safe space.
How to Make Exercise Fun
Suggesting a family workout or exercise may seem more like work than fun to a child. Instead, present the activity as a challenge. "Let's see which one of us can jump the highest or the longest." Or don't just go for a walk, bring your favorite stuffed animal with you, and try to find as many items that begin with the first letter of Teddy's name. Try Skip Tag rather than just tag where everyone must skip rather than run. Here are more challenging ideas to try with your family:
Shadow jumps: Head outside on a sunny day and observe your shadows as you attempt the following-
Criss-cross feet: Jump straight up, then cross one foot in front of the other; on the next jump, switch feet and continue.
Hurdle hops: Jump side-to-side or front-to-back over a pretend hurdle.
Jumping Jacks: Stretch arms and legs out to the side like a starfish while jumping; on the second jump, return arms to sides and legs to center on the landing.
One-foot hops: Lift one knee and jump on the standing leg; alternate.
Tuck jumps: Bend knees and lift heels high while jumping.
Balls for all ages: Use anything like balled-up socks, balloons, bean bags, and ping pong balls for the following activities-
Toss the ball into a laundry basket.
Target practice-tape up your own bullseye on a wall or door.
Play toss and catch with plastic mixing or storage bowls.
Roller Hockey-sitting on the floor, rolling the ball to the opponent, the opponent tries to block the ball.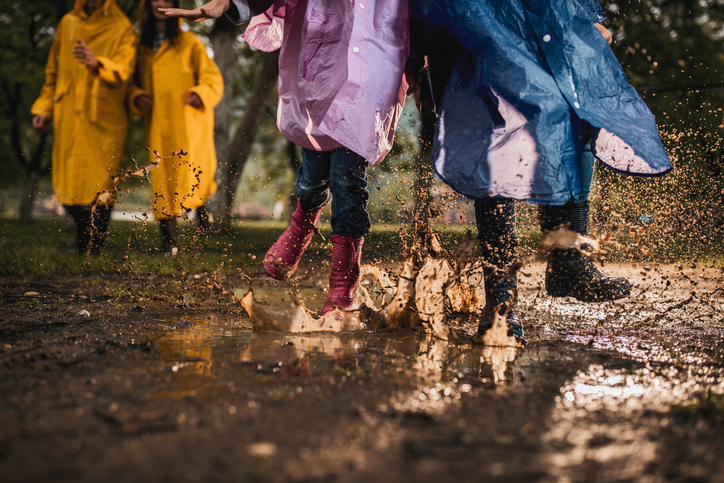 Don't let the weather stop you! Splash in those puddles for a sloshing good time!
Outside or Inside?
This summer try to get outside during the cooler parts of the day which is before 10 am and then again after dinner. Gardening, whether in the ground or in pots, is a fantastic way to get your body moving. Check out this blog for gardening with children. Set up an obstacle course in your driveway or yard. Play Red Light, and Green Light with the neighborhood kids. Children of all ages love parachute dash, simply use any sheet or blanket from your closet. Click this link for other Massachusetts resources for pools, beaches, playgrounds, hiking trails, and more!
Some ideas for when you are stuck inside are to create a tape maze, imitate animal walks, wrestle with a parent, do hallway bowling, do sock skating, bubble wrap stomp, freeze dance, or make your own music with plastic containers and spatulas.
Use this Move, Play, Have Fun Checklist from the USDA's Team Nutrition to see how many activities your family can complete this summer!
Have them color these Broc Activity Pages to give them inspiration!
Watch these Videos:
USDA's Discover MyPlate "Reach for the Sky" Music Video
Center for Disease Control's "Knees Lifted High" Book Reading
Read these Books:
Move Board Book, by Lolly Hopwood, Yo Kusters, and Luke Flowers, 2016, for ages 2-6 years.
Let's Go for a Walk, by Ranger Hamza, 2021, for ages 3-5 years.
Hop, Hop, Jump! By Lauren Thompson, 2012, for ages 3-8 years.
Good Night Yoga: A Pose-by-Pose Bedtime Story, by Miriam Gates, 2015, for ages 4-8 years.
Whether you are inside or outside, keep your body moving 60 minutes every day with fun, physical activity!
I'm going to shoot some basketball! Broc
Did you find this blog post helpful? Please click the heart button!