These fun and tasty snacks will not only delight your child but your holidays as well. They are packed with nutrients and vitamins. Have your child join in preparing these fruit and veggie creations that will become a family favorite. Holidays are about spending time together and honoring family food traditions. See if one of the following ideas becomes a new tradition for you and your family.
Apple Cheddar Pear Turkey
You will need: ½ pear, red and green apples, low-fat cheese slices, dried apricots, raisins, and any type of whole-grain cracker. For added fun, including eyes and a beak.
Arrange items to look like a turkey with feathers: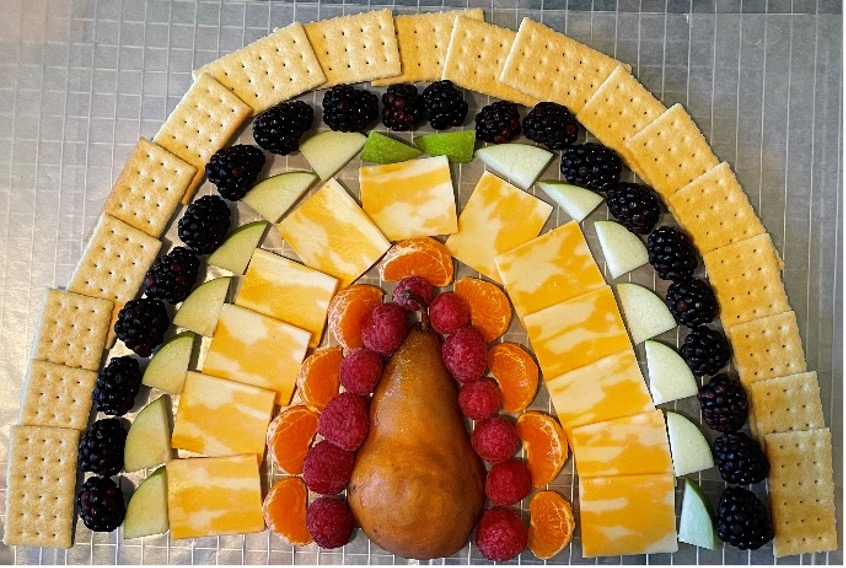 Cornucopia – "horn of plenty"
This recipe requires a mix of your favorite fruits. Consider strawberries, blackberries, raspberries, peaches, dried cranberries, blueberries, mandarin oranges, apple cubes, pineapple chunks, or grapes. Arrange fruit inside the waffle cones, drizzle with honey, and sprinkle some pumpkin seeds on top.
Children can easily fill the waffle cones and stack them as pictured here: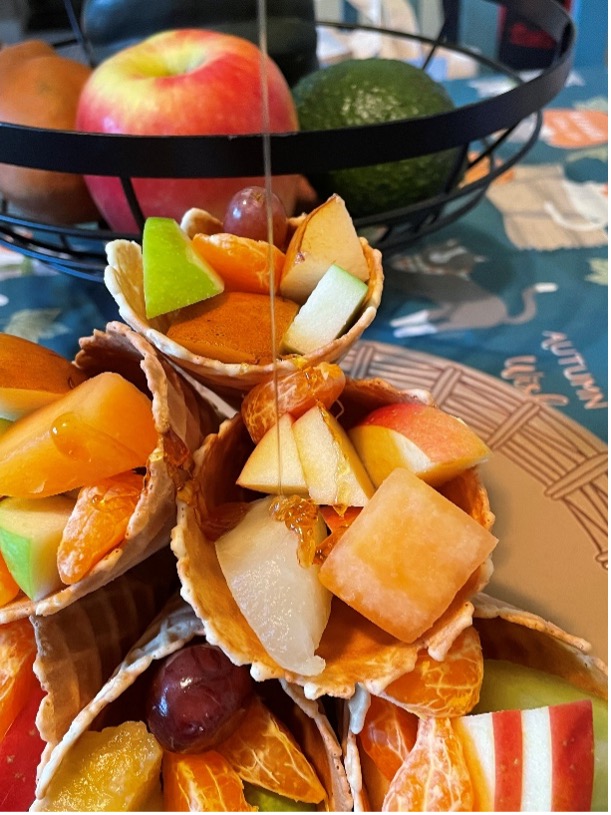 Savory Snack Board
Surround a half-pear with pita triangles, low-fat cheese, carrots, peppers, and cucumber sticks (or vegetables of your child's choice). Add a few ramekin bowls with hummus, almonds, dried cranberries, and walnuts, and dig in!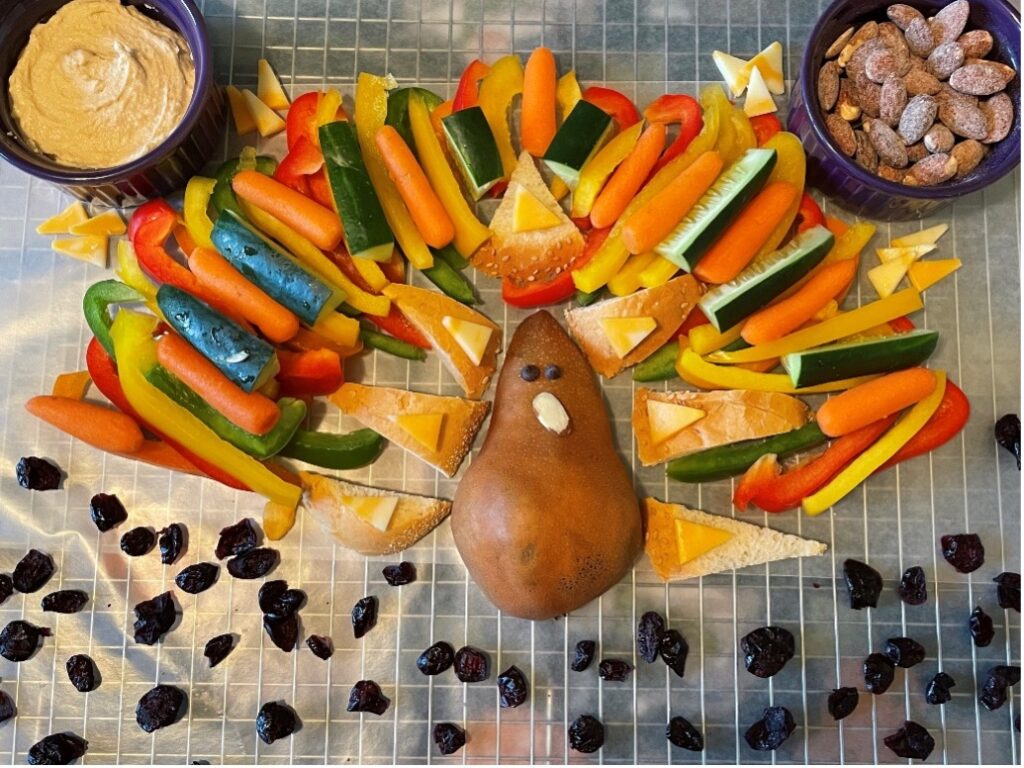 Turkey-Shaped Peppers with Hummus
These cuties are made of multi-colored peppers and filled with dipping hummus. All you have to do is add an adorable turkey face. Watch your kids gobble them right up!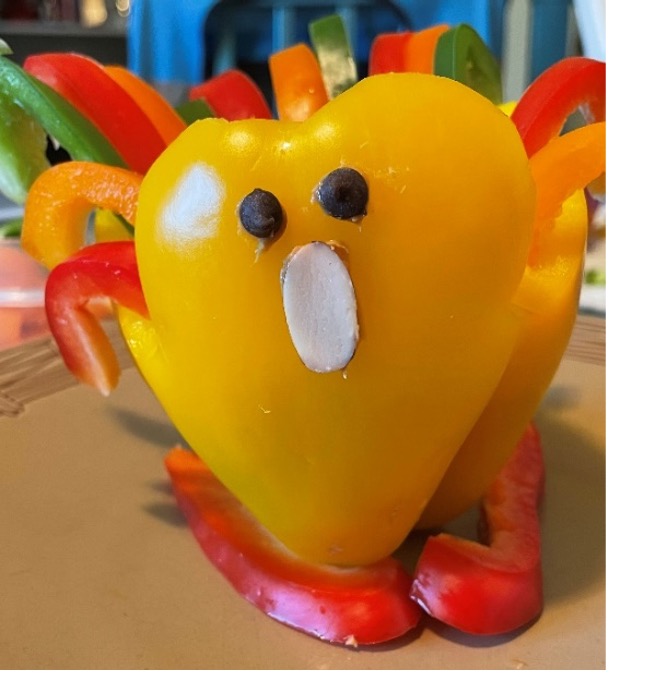 A Well-Balanced Plate for Power
MyPlate tells us to "Eat the Rainbow" of fruits and vegetables for maximum health and nutrition. These simple snack ideas not only provide a variety of fruit and vegetables, but also includes the additional pairing of grains, dairy, and protein. This makes for a power-packed snack!
Each section of MyPlate offers different benefits for a child's growing body:
FRUITS- offer many nutrients like potassium, fiber, vitamin C, and folate that allows the body to fight colds and illnesses
VEGETABLES- Many vegetables contain vitamin A which supports eye and skin health
DAIRY- Our biggest provider of calcium and vitamin D for growing and the protection of teeth and bones
PROTEIN- provides our bodies with protein, vitamins B and E, and iron to build and maintain strong muscles
GRAINS- gives us complex carbohydrates, fiber, B vitamins, and multiple minerals to keep us feeling full and assist with proper digestion
Learn more about MyPlate here.
Books on Family Food Traditions
Native American Cultures- Fry Bread: A Native American Family Story, by Kevin Noble Maillard, 2019, 2-10 years
Asian (Vietnamese) Story- Duck for Turkey Day, by Jacqueline Jules, 2017, 4-8 years
Multigenerational Asian Family Story and Recipe- The Whole World in Nan's Soup, by Hunter Liquore, 2021, 4-7 years
Multicultural Book- Rainbow Stew, by Cathryn Falwell, 2019, 5-8 years
Spanish/English Book: Yum! Mmmm! Que Rico! America's Sproutings, by Pat Mora, 2007, 5-10 years
Indigenous Peoples/Cherokee Focus- We Are Grateful: Otsaliheliga, by Traci Sorell, 2018, 5-10 years
Enjoy family, friends, nutritious foods, and fun traditions! Broc
Did you find this blog post helpful? Please click the heart button!