Happy Fall, families! I hope you have had a chance to visit your local farmers' market this season. There are so many delicious fruits and vegetables to enjoy. If you need help finding a farmers' market near you, use DTAFinder to locate one in your neighborhood that accepts EBT and utilizes your Healthy Incentive Program (HIP) dollars. More details on HIP and DTAFinder can be found at www.mass.gov/hip.
While at the farmers' market or at the grocery store, why not introduce yourself to my cousin, Cali Cauliflower? She is famous in California where 90% of her family is raised. Her crop season in Massachusetts runs from August to November. My cousin is simply amazing! Cali Cauliflower is a superfood! This means she has anti-inflammatory, antiviral, and antibacterial properties to protect your body from the inside out! Let me tell you a little bit more about my favorite family member, Cali Cauliflower.
Cali Cauliflower is truly a superhero. She is low in calories and high in vitamins. Just one cup of cauliflower contains only 50 calories and 75% of the recommended daily intake for Vitamin C. But there is more! So much more!
Cauliflower is chock full of vitamins and minerals your body needs every day
This vegetable is high in fiber which is great for your digestive health and promotes a feeling of fullness
It's a good source of antioxidants which are cell protectors and can help reduce your risk for diseases such as cancer, heart disease, and diabetes
Cauliflower is a cruciferous vegetable high in Potassium and Vitamin B
It's a good substitute for rice, flour, and even potatoes
Cauliflower is available year-round and can be very affordable
Our other cousins, like cabbage, kale, turnips, and Brussels sprouts look up to her superhero strengths. She has a gorgeous head made up of small round curds which are undeveloped flower buds. Cali Cauliflower is really a bunch of flowers! Her name literally means "cabbage flower." Typically, you see my cousin in the store as white, however she has siblings and friends that are green, yellow, orange, and purple. Cali Cauliflower can also be used in many different recipes from rice and pizza crust to hummus and tortillas and even in "macaroni & cheese" or "mashed potatoes"!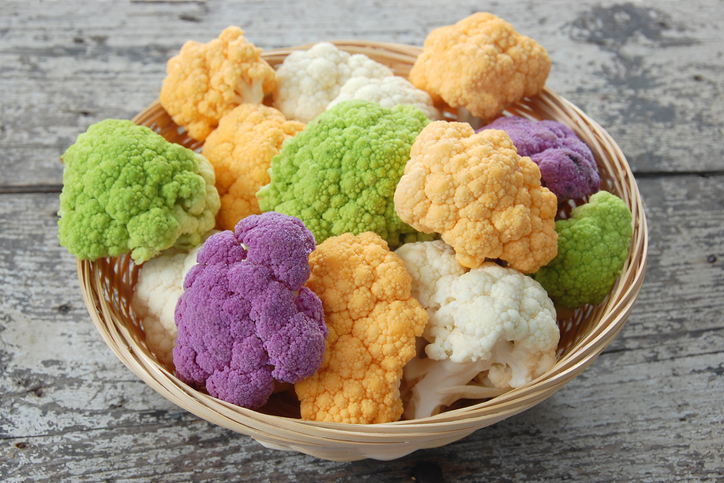 Cooking with Cauliflower
Cali Cauliflower can be enjoyed raw with hummus or dip, steamed, or roasted, and as a side dish or added to a soup, salad, stir fry, or casserole. Cauliflower may be substituted for broccoli in most recipes. If you happen to pick her up fresh and don't want to cook right away, do not wash her, add her to a plastic storage bag and place her in the refrigerator for up to 4-7 days. She can be frozen and stay fresh for up to a year.
When using fresh, wash cauliflower thoroughly and trim off the end of the stem. Cauliflower may be cooked whole or broken into flowerets. When cooking, add milk or lemon juice to maintain the whiteness. It gives a nutty flavor to most recipes. Even the stems and leaves are edible, try using when making a vegetable broth, perfect for the cooler winter months.
Some other ways to enjoy
Raw: Broccoli and cauliflower are popular in vegetable trays when cut into flowerets and small stem pieces. Have the kids help arrange for a fun family activity!
Steaming: Bring 2 cups of water to a boil in a pan. Place a colander or a collapsible steaming basket in the pan. Then put the vegetables in the colander or steamer and cover tightly. Reduce heat to medium and bring to a low boil.
A whole cauliflower (about 1 1/2 pounds) will take about 20 minutes to steam. Cauliflower or broccoli flowerets will take 6 to 10 minutes.
Microwaving: Place vegetables in a covered dish with 1/4 cup of water. A whole cauliflower, trimmed and cored, will cook for 8 to 10 minutes. One pound of cauliflower pieces will cook for 6 to 8 minutes.
Boiling: Place two gallons of water in a large pan. Heat the water to a rapid boil. Put the vegetables in a wire basket and place them in boiling water.
A whole cauliflower, about 1 1/2 pounds, will take 10 to 15 minutes. (Cook head down to keep underwater.) Cauliflower pieces will take 3 to 6 minutes.
Click this Tater Tot recipe to introduce your children to Cali Cauliflower in a fun shape!

Cauliflower Fun for kids!
Get moving by dancing to this song about me and my cousin, Broccoli and Cauliflower by D Billions Kids Songs: https://www.youtube.com/watch?v=I9CeZyn0y04
Books about Cauliflower:
Goodnight, Veggies! Board book by Diana Murray, 2021, for ages 0-3 years
The Trouble with Cauliflower, by Jane Sutton, 2006, for ages 3-5 years
Where Does Broccoli Come From? A Book of Vegetables, by Arielle Dani Lebuitz, 2018, for ages 4-12 years (book of 102 vegetables and recipes)
Cauliflower Activities:
Count as many clusters on a cauliflower head as you can.To what number did you count?
Compare and contrast a head of broccoli to a head of cauliflower.How many similarities or differences did you find?
Take a cluster of cauliflower and use it as a paint brush.No worries if you do not have paint, use a little bit of dressing, catsup, or mustard on aluminum foil or plastic wrap.
Farmers' Market coloring page – Color Cali's vegetable friends!
So, now that you have met and know how awesome Cali Cauliflower is, I hope you build a great relationship together!
Power your body with Cauliflower! -Broc