What is a Heart Healthy Child?
A heart-healthy child is one that eats foods low in fat, enjoys well-balanced meals, is physically active for 60 minutes each day, and grows up making the healthy choice, the easy choice. Parents that role model healthy eating, offer well-balanced snacks and meals, and have fun moving together, children will develop strong bodies and long life of healthy habits.
Understanding Fats
We actually do need some fat in our diets. The fat that is best for our bodies is unsaturated fat. Saturated fat is a fat that is solid at room temperature. It is recommended to limit saturated fats and to replace it with unsaturated fat to help decrease the risk of heart disease. Here are some examples of unsaturated fat alternatives:
| | |
| --- | --- |
| Saturated Fats | Unsaturated Fat Alternatives |
| Butter/Oils | Whipped margarine, oils made from olive, safflower, sunflower, corn, soybean, canola, peanut, or avocado |
| Cheeses | Low-fat or non-fat cheese options |
| Meats (bacon, hot dogs) | Legumes, fish, lean meat cuts |
| Whole Milk or Whole Dairy products | Low-fat or non-fat milk and dairy products |
| Donuts, pies, cookies | Whole-grain bread, cereals, pasta, or crackers |
| Processed food items | Cook from scratch at home |
Well-Balanced Meals
The MyPlate icon is a guide to help you and your child eat a healthy diet. It will prompt you to eat a variety of fruits and vegetables, whole grains, low-fat dairy, and lean meats that will provide you with appropriate amounts of vitamins, minerals, calories, and fat. MyPlate is divided into five food groups: fruits, vegetables, grains, protein, and dairy.
According to the 2020-2025 Dietary Guidelines for Americans, the five food groups are the core elements that make up a healthy dietary pattern that includes:
Vegetables: Eat the rainbow! Get a mix of dark green, red, and orange, beans, peas, lentils, and some starchy vegetables. Make half your plate fruits and vegetables.
Fruits: Any fruit or 100% fruit juice counts as a serving of fruits. Fruits and vegetables can be fresh, canned, frozen, or dried and offer you the same levels of nutritional value.
Grains: Make at least half of your grains whole; some examples are: wheat, quinoa, oats, cornmeal, barley
Protein: Go for lean products when purchasing beef, pork, turkey, and chicken and vary up your routine with fish/shellfish, nuts, seeds, beans, and peas.
Dairy: When purchasing milk, cheeses or yogurt try low-fat or fat-free milk products.
Your child's serving size for each of the food groups will depend on their age. It is based on the number of calories they should have each day which could be anywhere between 1000-2000 calories. Discuss with your doctor regarding what your child's calorie intake should be for their age. Listed below is what a 1600-calorie diet requires:
| | |
| --- | --- |
| Food | 2020-2025 Dietary Guidelines for Americans Recommended Amounts |
| Vegetables | 2 cups/day |
| Fruits | 1.5 cups/day |
| Grains | 5 ounces/day |
| Proteins | 5 ounces/day |
| Dairy | 2.5 cups/day |
Here's an example of a tasty heart-healthy meal: https://www.myplate.gov/recipes/supplemental-nutrition-assistance-program-snap/english-muffin-veggie-pizza
Other meal and snack options can be found here, https://www.mahealthyfoodsinasnap.org/healthy-foods/recipes.
Keeping Physically Active Together
Children respond better to participating in physical activity like a game or a new fun activity. You may find it hard to stay active during the snowy months of winter. While we are more housebound during these months, here are some suggestions you could do to stay active in the warmth of your own home: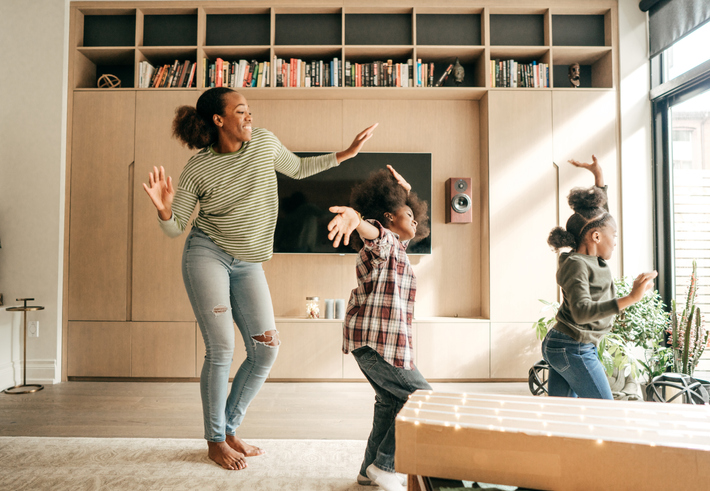 Dance Party
Furniture Obstacle Course
Timed Scavenger Hunt
Masking Tape Hopscotch
Animal Races (Hop like a bunny, etc.)
Balloon Fun
"Snowball" Fights (made from yarn, cotton balls, and commercially made softballs)
Pool Noodle Hockey
Duck, Duck, Goose, or Simon Says
Follow the Leader Parades
If you do venture outside, look for indoor playgrounds, walk the mall, hiking trails (https://www.mass.gov/hiking-in-massachusetts-state-parks), bowling, ice skating, sledding, snow shoveling, or build snow forts/people.
The CDC recommends for Preschool-Aged Children (ages 3 through 5 years):
Preschool-aged children (ages 3 through 5 years) should be physically active throughout the day for growth and development.
Adult caregivers should encourage preschool-aged children to be active when they play.
The CDC recommends School-Aged Children and Adolescents (ages 6 through 17 years):
Children and adolescents ages 6 through 17 years should do 60 minutes (1 hour) or more of moderate-to-vigorous intensity physical activity each day, including daily aerobics – and activities that strengthen bones (like running or jumping) – 3 days each week, and that build muscles (like climbing or doing push-ups) – 3 days each week.
Check out our Healthy Moves page for tips and ways to stay active! https://www.mahealthyfoodsinasnap.org/healthy-moves.
Making the Healthy Choice the Easy Choice
MyPlate, https://www.myplate.gov/ , promotes "making every bite count." Making a healthy choice means choosing a variety of foods and beverages that are high in vitamins and minerals and low in sugar, saturated fat, and sodium. Some ways to have your family "make every bite count" are:
Having fruits and vegetables on hand to eat so your family can grab and go at any time
Determining what your family's favorite fruits and veggies are for snacking and what their preferred healthy meals might be for ease of planning
Removing processed foods or limiting them as these are a "sometimes" treat
Trying a smaller plate at meals
Planning your shopping list and meal ideas
Using cooking techniques like baking, sautéing, broiling, steaming, grilling, boiling, or poaching
"Small changes matter." It is important to understand that making changes over a long period of time will be more successful at becoming a habit than trying to make all the recommended changes at once. If you are a family that drinks whole milk, try mixing whole milk with low-fat milk, then make the transition to nonfat. Your family will thank you for it! Similarly, some quick changes can be trying brown rice instead of white, whole grain bread instead of white, or skin-free chicken.
Tips for Raising Heart-Healthy Children
Keep them moving
Create a positive home environment
Limit screen time
Schedule regular pediatric check-ups
Include children in meal planning, shopping, and preparations
Offer well-balanced meals and healthy snack options
Read children's books on health, nutrition, wellness, and active lifestyles (see below)
Try herbs and spices instead of the saltshaker
Drink water, low-fat milk, or similar alternatives
Visit, print, and enjoy Broc's Coloring Pages, https://www.mahealthyfoodsinasnap.org/about/broc-coloring-page
Book Resources
Eat Your Colors, by Scholastic, 2016, for ages 1-3 years
Calm with the Very Hungry Caterpillar, by Eric Carle, 2019, for ages 3-5 years
Fort-Building Time, by Megan Wagner Lloyd, 2017, for ages 3-7 years
You Are Healthy, by Todd Snow, 2008, for ages 4-6 years
Everybody in the Red Brick Building, by Anne Wynter, 2021, for ages 4-8 years
Show your heart love! Encourage your children to do the same!