Families, we have made it to June and your children will soon be enjoying their summer vacation! It's the perfect time to celebrate National Fresh Fruit and Vegetable month with some fun activities. This blog will share five easy and affordable activities you can do with your family to incorporate more fruits and vegetables into your day. A couple of them are pretty tasty too!
Start Each Day with a Nutritious Breakfast
By beginning your day with a nutritious breakfast, you will find that you will feel fuller longer and be more focused throughout the day. A healthy breakfast is simple when you use MyPlate and select foods from the five food groups: fruit, vegetables, grains, protein, and dairy. Try to fill half your plate with fruits and vegetables and incorporate whole grains, proteins, and low-fat dairy into your meal. A quick example might be a vegetable frittata with sliced strawberries topped with homemade granola and a glass of low-fat milk. You can find a Frittata recipe here: Broccoli-Cheddar Frittata | MyPlate.
Choosing fresh fruits and vegetables using the colors of the rainbow, can be a fun way to engage children and encourage them so they get the most vitamins and minerals they need for their growing bodies. The nutrients provided in fresh fruits and vegetables, such as calcium, fiber, iron, and potassium are needed for growth, keeping our bones strong, building muscle, and protecting us against chronic diseases.
Visit a Farmer's Market
Plan a family trip to a local farmers' market to get outside, increase your daily steps and use your EBT card to buy healthy options directly from a farmer. Did you know you can purchase local fruits and vegetables using HIP (Healthy Incentive Program) as part of your SNAP benefits at participating farm stands, mobile markets, farmers' markets, and CSA's (community-supported agriculture farm share programs)? Use this map to find a local market near you. And to find HIP vendors, click here: https://dtafinder.dtadash.ehs.mass.gov/hip/.
In Massachusetts, some local farmers are currently growing strawberries, asparagus, lettuce, and spinach. Use this in-season chart for all produce and months of growth. Here are some questions your children can ask the farmer:
Where is your farm located?
When was the fruit or vegetable picked?
What other fruits and vegetables do you grow?
What is your favorite fruit or vegetable?
Do you have animals on your farm?
Include Your Children in Planning, Shopping, and Prepping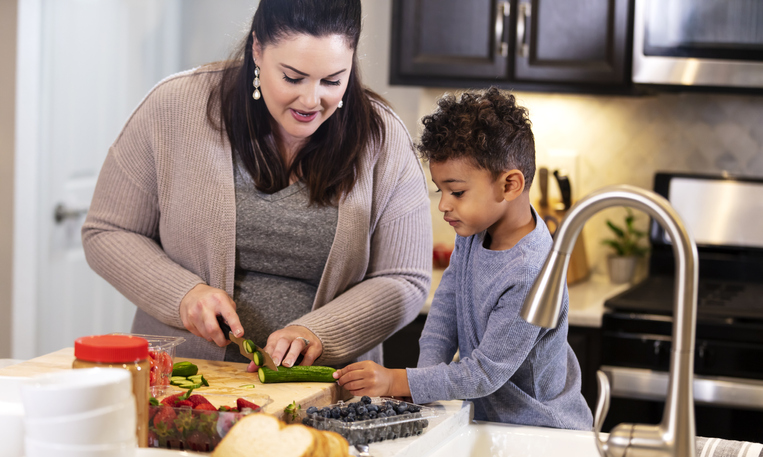 Keep the children busy but still learning this summer. Have them go through recipe books or search websites to find recipes that appeal to them. Talk about the foods they may want to try and discuss the importance of eating a variety of foods throughout the day. Together you can create a list to help you shop intentionally for the week ahead. Once back from shopping, have your children help prep the fruits and vegetables for the week by cutting, bagging, or putting the prepared foods in the freezer. Yes, you can freeze fruits and vegetables! Frozen fruits are perfect for smoothies or thawed to make bread and muffins. Frozen veggies are best used in soups, stir-fries, casseroles, omelets, and crock-pot recipes. This is cost-saving and you might get some leftovers out of it! You can find more fun activities from MyPlate here.
Experiment Days
There are so many different fresh fruits and vegetables grown in Massachusetts! One of them is broccoli, wink wink! Play a game where you choose a new or favorite fruit or vegetable to try with your family. Let's look at broccoli. Cook the broccoli three different ways; par-boiled, roasted, or stir-fried. You could even try it raw, sauteed, baked, steamed, or grilled. Additionally, there are many ways to top your broccoli with various spices, low-fat cheeses, or sauces/dressings. Another option is to add broccoli to different family-favorite food items, such as scrambled eggs, on top of a potato, or mixed in with noodles. If you are trying a new fresh fruit or vegetable, it is also suggested to introduce it to your child by using all their senses. Before even taking a bite, have your child:
Describe the color and shape
Describe the texture
Describe the smell
Test it with a lick
Chomp a bite
If you are working with a picky eater, try adding the healthier fruit or vegetable to foods your child already loves. Some examples might include making blueberry pancakes, carrot or zucchini muffins, different fruits on top of cereal or oatmeal, or spiral veggies on top of rice or macaroni and cheese.
Read a Fresh Fruit and Vegetable Story
Eat Your Colors (Rookie Toddler), Scholastic, 2016, for Ages 1-3.
Edible Colors: See Learn Eat, by Jennifer Vogel Bass, 2016, for Ages 1-3.
I Can Eat a Rainbow, by Olena Rose, 2021, for Ages 2-5.
Just Try One Bite, by Adam Mansbach & Camila Alves McConaughey, 2022, for Ages 3-7.
We Eat Food That's Fresh, by Angela Russ-Ayon, 2017, for Ages 4-8.
Children can also enjoy coloring my Coloring Pages.
or try this Edible Alphabet Game for ages 2+ by Chop Chop.
Munch, Munch-Broc